Personalized and Customized Pacebands from Marathon Dynamics!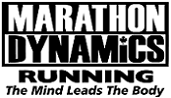 * For Half and Full Marathon Runners Only*
To make sure you run the best race possible, have a laminated, Velcro-closured, extra-large print, paceband made up for your big race day by Marathon Dynamics, the running training and coaching specialists. The paceband is customized to:
a) Your chosen race distance (half or full) & goal time (and it can be ANY time)
b) The unique topography of the race course, so that each km split time accurately reflects the ups and downs as you run them
c) The pacing strategy you wish to use. We strongly recommend the "slight negative split" approach (bit slower first half, bit faster second)
Email coach Kevin Smith of Marathon Dynamics by Friday, April 24th at kevinsmith@marathondynamics.com.
Write "GoodLife Pace Band" in the subject line, and include the following in your message:
1) Your first and last name
2) Your goal distance (half or full marathon)
3) Your goal time
4) (Optional) your pacing strategy, if any. Choose either "Even Split" (ES), or "Slight Negative Split" (SN) or "Big Negative Split" (BN).
Your pace band will be ready and waiting for pick-up at the Marathon Dynamics Booth (purple tent!) at the Expo when you pick up your race kit.
For more information, please visit the Marathon Dynamics website at marathondynamics.com.