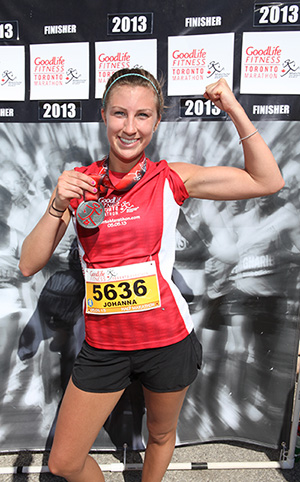 All participants must pick-up their BibTag and race shirt (sizes cannot be guaranteed) at our expo. Please understand that our shirts are ordered 6 months in advance and we do our best to estimate the sizes required and provide to you the size that you indicated when registering. It's always a good idea to double check the size when picking up your shirt. Participants in the marathon will get a second shirt (previous years) at the expo only,  while supplies last.
In a small effort to be greener, we will not provide bags to our participants at Shirt/BibTag pick-up. We strongly recommend that you bring your own bag should you think you may require one. For the same reason, we do not provide bags for race day "bag check" and will accept your own gym bag or "other" provided by you. Be sure to attach the tag (tear-off at bottom of your bib) to your bag for proper identification.
Pickup Location: Direct Energy Centre, 100 Princes' Blvd. Hall "D" Pickup Dates: Friday May 2nd  10:00 am to 7:00 pm. and Saturday May 3rd 9:00 am to 5:00 pm. Shirts/bibs will not be mailed.  You will require your confirmation number (if registered online) and bib number and may be asked for photo ID.  Bib numbers will be emailed to each participant on the Thursday prior to the race. Bib numbers will also be posted on the East wall opposite the registration area. Participants may pick up for themselves and up to two additional participants and require their proper information.
Only participants traveling from out of town (for the Marathon and Half Marathon only), may pick-up their BibTag and shirt (limited sizes available) at Mel Lastman Square from 6:00 AM on Race morning. Look for the POD (white shipping container) located on North York Blvd. near entrance to the Civic Centre. Please arrive early, as you want to make sure to get your BibTag and shirt before the gun goes off. There is no 'day of' pickup for the 5k.