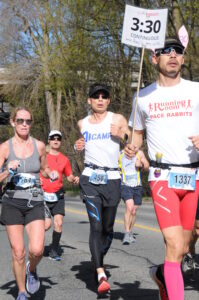 "You can do it, join in the marathon run on the street named by Guiness as "the longest street in the world". From start to finish, the Toronto Marathon profiles the diverse culture of Canada's largest city. The course boasts cool temperatures, a negative drop in elevation with very few turns making this Toronto Marathon a favourite Boston qualifier."
- John Stanton,
Founder and President, The Running Room
The Running Room training program is ideal for those interested in completing a 5K to a marathon. This 13-week program will help you achieve your goal without excessive training or recovery. For further information please call your local Running Room.
---
Pace Rabbits
Pace Rabbits are provided by The Running Room - look for the Bunny Ears. Completion times will correspond to bib numbers.
If you are interested in participating as a Pace Rabbit, please send an email to info@torontomarathon.com or complete the pdf entry form and be sure to check off that you wish to be a pace rabbit, and the time that you are capable of finishing.
MARATHON:
3:10 continuous
3:15 continuous
3:30 continuous
3:40 continuous
3:45 continuous
3:45 10:1
4:00 10:1
4:15 10:1
4:30 10:1
4:45 10:1
5:00 10:1
HALF MARATHON:
1:30 continuous
1:45 continuous
2:00 continuous
2:00 10:1
2:15 10:1
2:30 10:1
2:45 10:1