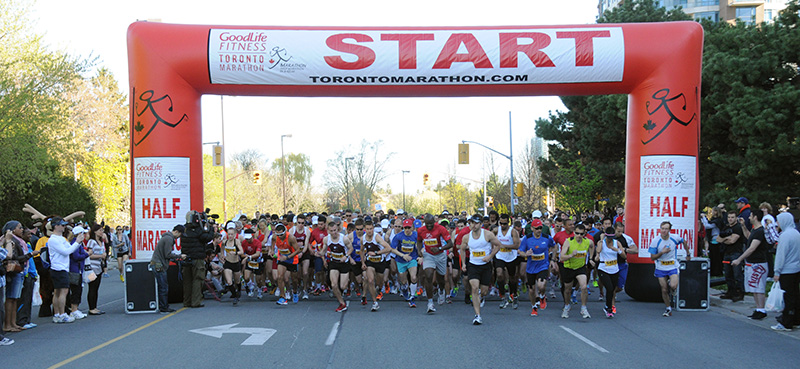 General Info
The Half Marathon is expected to draw upwards of 6000 participants in a downhill, fast and scenic course from MLS to Ontario Place. This Toronto favorite continues to grow in popularity and is considered by many to be the best Half Marathon in Canada.
The Half Marathon begins behind Mel Lastman Square on Beecroft Ave just South of Park Home Ave. Participants run South to Elmhurst Ave., East to Yonge St., and South on Yonge St. to Aylmer Ave. South on Aylmer Ave. to Rosedale Valley Rd. to Bayview Ave. South to the very bottom (River St. – this section is New) then turn North to King St. West. King St. West to Sumach St. South to Eastern Ave. West on Eastern Ave. to Front St. running through the historic St. Lawrence Market Westbound to Wellington St. continuing West to John St. South on John St. to Front St. West. Front St. West to Bathurst St. South on Bathurst St. to Fort York Blvd. Fort York Blvd. to Lakeshore Blvd. West on Lakeshore Blvd. to the finish line on Ontario Place Blvd. on the South side of Lakeshore Blvd. at Ontario Place. This course has been accurately measured and is certified by Athletics Canada.
The Half Marathon Walk begins at the same time as the Half Marathon and follows the same course. Results will be posted separately from the Run. There are no awards for the Half Marathon Walk division. Please visit our Race Day  page for maps and transportation information.
---
The Goodlife Fitness Half Marathon  is the official Ontario Master's Athletics (OMA) 2014 Half Marathon Road Race Championship. The Goodlife Fitness course is a measured and certified course by Athletics Canada.
---
Specifics 8:30 AM – Start at Mel Lastman Square
Sorry, no in-line skates, roller-skates, bicycles, strollers or dogs will be allowed on the course. For the safety of all participants, we strongly recommend you do not wear iPods, or similar devices which inhibit your ability to hear surrounding sounds. Participants must be a minimum of 16 years of age for participation in the Half Marathon. If under 18 on race day; a doctor's note must be provided (mailed or scanned/emailed) to us prior to the event.
---
Aid Station & Timing
There will be 11 Aid Stations on the course with Water, Gatorade, Bananas and toilets. Split times will be called at the 1 mile mark. The course will be marked every kilometre, as well as every 5 miles.  All events will be timed using the BibTag timing system. Gels will Not be available on the course and we suggest that you supply your own.
| | | | |
| --- | --- | --- | --- |
| Aid Station Number | Station Type | Location (km) | Location (miles) |
| 1 | Water/Gatorade | Start/MLS | Start/MLS |
| 2 | Water/Gatorade | 1.5 km | 0.9 miles |
| 3 | Water/Gatorade | 4 km | 2.5 miles |
| 4 | Water/Gatorade | 6 km | 3.7 miles |
| 5 | Water/Gatorade | 8 km | 5 miles |
| 6 | Water/Gatorade | 9.5 km | 5.9 miles |
| 7 | Water/Gatorade | 11 km | 6.8 miles |
| 8 | Water/Gatorade | 14 km | 8.7 miles |
| 9 | Water/Gatorade | 17 km | 10.6 miles |
| 10 | Water/Gatorade | 19 km | 11.8 miles |
| 11 | Water/Gatorade | Finish/OP | Finish/OP |
---
Expo
The GoodLife Fitness Toronto Marathon Expo is FREE and open to the public during registration and bib/shirt pick-up at the Direct Energy Centre, Exhibition Place, 100 Princes' Blvd. Hall 'D" .  ALL participants, including RELAY TEAMS must attend the expo to pick-up their shirt and BibTag. The hours are: Friday 10:00 AM to 7:00 PM and Saturday 9:00 AM to 5:00 PM. For more information about the expo please click here.
---
Shirt and Bib Tag
All participants must pick-up their BibTag and race shirt (sizes cannot be guaranteed) at our expo. Please understand that our shirts are ordered 6 months in advance and we do our best to estimate the sizes required and provide to you the size that you indicated when registering. It's always a good idea to double check the size when picking up your shirt. Participants in the marathon will get a second shirt (previous years) at the expo only,  while supplies last.
In a small effort to be greener, we will not provide bags to our participants at Shirt/BibTag pick-up. We strongly recommend that you bring your own bag should you think you may require one. For the same reason, we do not provide bags for race day "bag check" and will accept your own gym bag or "other" provided by you. Be sure to attach the tag (tear-off at bottom of your bib) to your bag for proper identification.
Pickup Location: Direct Energy Centre, 100 Princes' Blvd. Hall "D" Pickup Dates: Friday May 2nd  10:00 am to 7:00 pm. and Saturday May 3rd 9:00 am to 5:00 pm. Shirts/bibs will not be mailed.  You will require your confirmation number (if registered online) and bib number and may be asked for photo ID.  Bib numbers will be emailed to each participant on the Thursday prior to the race. Bib numbers will also be posted on the East wall opposite the registration area. Participants may pick up for themselves and up to two additional participants and require their proper information.
Only participants traveling from out of town (for the Marathon and Half Marathon only), may pick-up their BibTag and shirt (limited sizes available) at Mel Lastman Square from 6:00 AM on Race morning. Look for the POD (white shipping container) located on North York Blvd. near entrance to the Civic Centre. Please arrive early, as you want to make sure to get your BibTag and shirt before the gun goes off. There is no 'day of' pickup for the 5k.
---
Race Day Information
For information concerning final instructions, please click here.
---
Accreditation
The GoodLife Fitness Toronto Marathon is sanctioned by Athletics Canada and the AIMS and meets international standards. Participants can qualify for the Boston Marathon and other accredited international marathons.
Half Marathon – CAN-2012-026-BDC