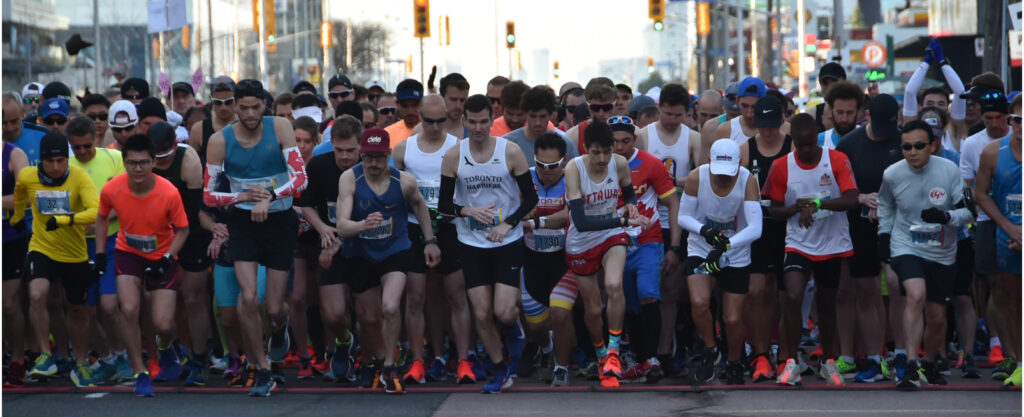 General Information
The Half Marathon course is fast, downhill, and scenic. Starting at Yonge and Sheppard in North York and finishing at Exhibition Place, the Half Marathon is the most popular event during Race Weekend.
---
Specifics
8:00 AM – Half Marathon Walk Start – Yonge St. & Sheppard Ave.
8:30 AM – Half Marathon Run Start – Yonge St. & Sheppard Ave.
Participants must be a minimum of 16 years of age on race day. If under 18 on race day, a doctor's note must be provided (mailed or scanned/emailed) prior to the event.
The Half Marathon Walk and Half Marathon Run follow the same course. Results will be posted separately from the Run. There are no awards for the Walk division.
In-line skates, roller-skates, skateboards, bicycles, strollers and dogs are not permitted on the course. For the safety of all participants, iPods and similar audio devices are not recommended.
For additional information, please click on the following links:
Race Day Information | Race Maps | Shirt and BibTag
---
Aid Station & Timing
Aid stations providing water, nuun and toilets are located approximately every 2.5 km in addition to the Start and Finish Lines.
On-Course Aid Station Locations:
1.5 km  • 4 km • 6 km •  8 km  • 9.5 km  • 11 km • 14 km • 17 km • 19 km
SportStats is the official Timer. The course will be marked at every kilometer. Split times will be taken at the 15.8 km mark. Results will be posted online following the race.
---
Accreditation
The Toronto Half Marathon has been accurately measured and is certified by Athletics Canada and the Association of International Marathons (AIMS) and meets all international standards.