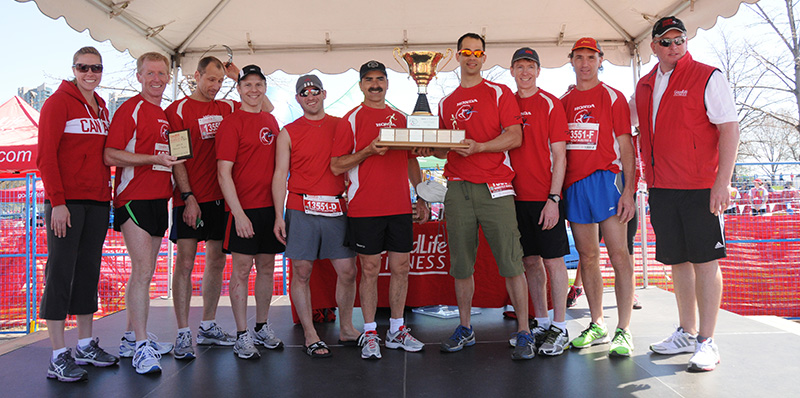 We expect over 150 teams representing the top corporations in Canada to participate in this eight-person relay from Mel Lastman Square to the Finish Line at Ontario Place. Relay Teams can register online or offline by printing the Relay pdf.

---
For information on the Princess Margaret Hospital pledge program click here.
More information will be provided at registration when teams pick up their kits.
If you have already registered, please click here to modify your team's roster.
---
Specifics
Relay Transfer Points
Relay transfer points are located approximately every 5k and it is the responsibility of each team to get their runners to the proper points. Please see below.
| | |
| --- | --- |
| Position | Location |
| Start - | Behind Mel Lastman Square on Beecroft South of North York Blvd. |
| 5k - | 3446 Yonge St. & Deloraine |
| 10k - | North West Corner of Yonge St and Chaplin Cres |
| 15k - | Davenport Rd and Dupont The South East corner |
| 20k - | 328 Bayview Ave Audi parking lot |
| 25k - | 550 Front St West |
| 30k - | 1491 Lakeshore Blvd West. Just east of the Boulevard Club |
| 35k - | Humber Bay Rd West and 2225 Lakeshore Blvd West |
For detailed relay transfer points and other important information, click here. Corporate teams will receive Karbon shirts. Non-Profit teams will receive cotton shirts. Participants who register by May 1 will receive a customized, multicoloured event bib with your name on it. NO REFUNDS, Exchanges, deferrals or substitutions on entry fees.
---
Start Time
7:50 AM – On Beecroft behind MLS south of North York Blvd. Sorry, no in-line skates, roller-skates, bicycles, strollers or dogs will be allowed on the course.For the safety of all participants, we strongly recommend you do not wear iPods, or similar devices which inhibit your ability to hear surrounding sounds. In an effort to minimize traffic congestion and for public safety; we do not permit walkers in the Relay due to time restrictions set by the City of Toronto. We require that all participants in the Relay maintain a 12 minute per mile pace and may be asked to move on to the sidewalk and obey normal traffic laws if running slower than a 12 minute per mile pace. Those of you who can run faster…..please feel free to do so.
---
Aid Station & Timing
Aid Station Number

Station Type

Location (km)

Location (miles)

1
Water/Gatorade
Start/MLS
Start/MLS
2
Water/Gatorade
3 km
1.9 miles
3
Water/Gatorade
5 km
3.1 miles
4
Water/Gatorade
7 km
4.3 miles
5
Water/Gatorade
10 km
6.2 miles
6
Bananas only
12.5 km
7.8 miles
7
Water/Gatorade
13 km
8 miles
8
Water/Gatorade
15 km
9.3 miles
9
Water/Gatorade
17 km
10.6 miles
10
Water/Gatorade
20 km
12.4 miles
11
Water/Gatorade
& Gels
23 km
14.3 miles
12
Water/Gatorade
25 km
15.5 miles
13
Gels only
27.5 km
17.1 miles
14
Water/Gatorade
28 km
17.4 miles
15
Water/Gatorade
30 km
18.6 miles
16
Water/Gatorade
33 km
20.5 miles
17
Water/Gatorade
35 km
21.7 miles
18
Water/Gatorade
37 km
23 miles
19
Water/Gatorade
40 km
24.9 miles
20
Water/Gatorade
41.5 km
25.8 miles
21
Water/Gatorade
Finish/OP
Finish/OP
Aid stations will be supplied with Water and Gatorade. There will be 21 Aid Stations along the route each supported by medical personnel. Gels will be available at the 20.5km, 26km and 36km aid stations for the marathon only. Split times will be called at the 1 mile mark. The course will be marked every kilometre, as well as every 5 miles.  All events will be timed using the BibTag timing system.
---
Expo
The GoodLife Fitness Toronto Marathon Expo is FREE and open to the public during registration and bib/shirt pick-up at the Direct Energy Centre, Exhibition Place, 100 Princes' Blvd. Hall 'D" .  ALL participants, including RELAY TEAMS must attend the expo to pick-up their shirt and BibTag. The hours are: Friday 10:00 AM to 7:00 PM and Saturday 9:00 AM to 5:00 PM. For more information about the expo please click here.
---
Shirt and Bib Tag
All participants must pick-up their BibTag and race shirt (sizes cannot be guaranteed) at our expo. Please understand that our shirts are ordered 6 months in advance and we do our best to estimate the sizes required and provide to you the size that you indicated when registering. It's always a good idea to double check the size when picking up your shirt. Participants in the marathon will get a second shirt (previous years) at the expo only,  while supplies last.
In a small effort to be greener, we will not provide bags to our participants at Shirt/BibTag pick-up. We strongly recommend that you bring your own bag should you think you may require one. For the same reason, we do not provide bags for race day "bag check" and will accept your own gym bag or "other" provided by you. Be sure to attach the tag (tear-off at bottom of your bib) to your bag for proper identification.
Pickup Location: Direct Energy Centre, 100 Princes' Blvd. Hall "D" Pickup Dates: Friday May 2nd  10:00 am to 7:00 pm. and Saturday May 3rd 9:00 am to 5:00 pm. Shirts/bibs will not be mailed.  You will require your confirmation number (if registered online) and bib number and may be asked for photo ID.  Bib numbers will be emailed to each participant on the Thursday prior to the race. Bib numbers will also be posted on the East wall opposite the registration area. Participants may pick up for themselves and up to two additional participants and require their proper information.
Only participants traveling from out of town (for the Marathon and Half Marathon only), may pick-up their BibTag and shirt (limited sizes available) at Mel Lastman Square from 6:00 AM on Race morning. Look for the POD (white shipping container) located on North York Blvd. near entrance to the Civic Centre. Please arrive early, as you want to make sure to get your BibTag and shirt before the gun goes off. There is no 'day of' pickup for the 5k.
---
Race Day Information
For information concerning final instructions, please click here.
---